Victorinox Belt Clip - Perfect for Keys!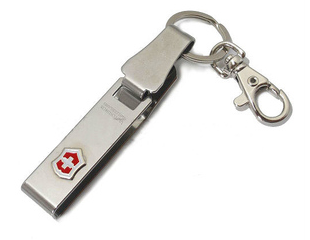 This is a great little belt clip - it'll hold a keychain and it won't damage your belt.
Expect this to become a part of your everyday carry, it's a great way to keep a keychain handy, without it digging into your hip. The clip action is firm, but might not be great with a really thick key ring. But it'll certainly work with 99% of the key rings I've seen.
Available for purchase at Amazon